SFS Triple Clamps
Features:
-Tridium aerospace alloy CNC machining
-Handlebar clamp included
-Easy to install, pre-pressed Pivot Works lower bearing included
-Hydraulic and pneumatic system in the bottom handlebar clamp
-Improve the riding comfort, decrease the arm pump
-Developed in collaboration with top US MX/SX & MXGP teams
-No service required
-Torque settings noticed on clamps
More details at NK Neken.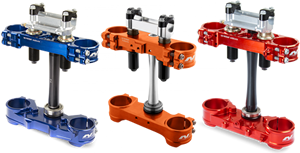 ---
Öhlins New RXF 48S Front Fork
Öhlins introduce their latest motocross front fork, the RXF 48S. With this 2018 fork, we have continued our successful development path from previous model improvements. Our keywords have been 'stability, defined and settled without harshness'. For 2018, we have made updates both internally in the damping system, as well as externally in the lower fork legs. More details here.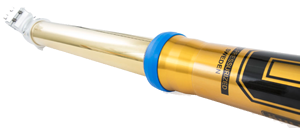 ---
Alpinestars LE 'Radiant' TECH 10 Boots Now Available at Santa Cruz Suspension!
The world's most technologically advanced and protective motocross boot, the Tech 10 offers unrivaled race-winning performance to dirt riders who demand nothing less than the best. The Limited Edition 'Radiant' Tech 10 fuses all the performance innovations of the iconic Tech 10 with an exclusive color combination. Bright and vivid, the 'Radiant' Tech 10 features a fluo yellow lower chassis, a luminous pink front upper, and a bright white shin plate. To complete the look, the rear of the boot is sleek black with an Alpinestars logo accented in white. The result, a vibrant, high performance motocross boot worthy to be debuted at one of the most exciting Supercross rounds of the year. Click here for more info.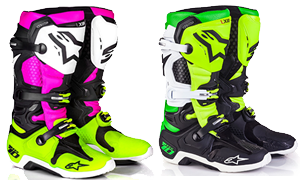 ---
Ohlins TTX Fork Cartridge
- Cartrdigekit with patented TTX design
- Gas pressurized damping system for immediate damping response
- Easy installation in OE front forks
- External compression adjuster
- External rebound adjuster
- Improved hydraulic stops to improve bottoming resistance
- Springs ordered separately to suit riders choice of rate
- New top out rubber for smoother top out feeling
- Available for all major MX and Enduro models.
Visit Ohlins for more info.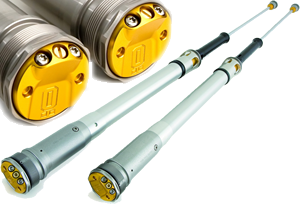 ---
ProMoto Billet Evolution Air Footpegs
Features:
The Evolution AIR pegs are aptly named. Machined at Pro Moto Billet out of USA made 2024 billet, these pegs are not only the best looking pegs ever made, theyre 20.8% lighter than KX450 pegs, and 16.7% lighter than stock KTM pegs. Recently re-designed, theyre now even stronger- resisting over 10 tons of down force on our destruction press. The traction surface has also been modified so that a riders sole rests entirely on the cleats - offering more traction than ever thought possible by a foot peg. At 2.25 wide and 3.25 long, and offering 9% more available traction than Fastways Evolution 3 footpegs, the Evolution AIRs are the perfect balance of size and traction for motocross, off-road racers and riders.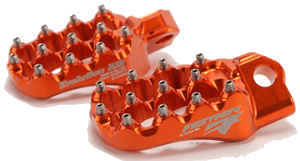 ---
Motoz Tires are now available here!
Features:
Better Rubber Quality.
We use the natural substance of traction - 100% natural rubber.
Innovative tread designs.
Our trademark "Terrapactor" principle works with the terrain by compacting and wedging it to help increase traction rather than just throwing it behind the bike.
Custom Construction.
Each series has different construction tailored to the application. High strength ply material achieves higher ply rating with less ply layers. Tractionator series is super heavy duty and has unique sidewalls and reinforcement to reduce punctures and pinch flats. Terrapactor series is light weight -and has zones of rigidity and flexibility to maximize traction.
Easy to fit.
Better for service times.
Crown Radius Section (CRS)
Tailored to each application for better grip/wear ratio.
Check Pacific Power Sports for more details.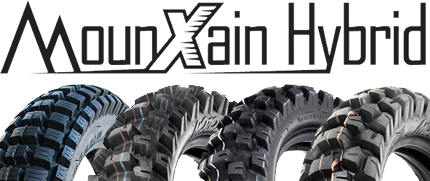 ---
Pro Circuit TI-2 2 Stroke Silencer
Features:
- Optimum performance gains
- Carbon Kevlar silencer body construction
- Titanium tubing and end-caps
- CNC machined aluminum mounting bracket(s) (select models)
- Double-walled aluminum mounting bracket(s) (select models)
- Closed-course racing only
- Made in the USA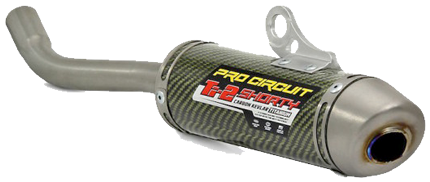 ---
All New Bridgestone Battlecross X30 Tires
Just arriving are the all new Battlecross X30 off road, motocross tires at very competitive pricing!
Outstanding grip and linear traction let you unleash the full power of your machine, for a level of stability and responsive rarely seen in a motocross tire. Higher traction and superior grip extend the range of Bridgestone's flagship motocross tire, as much at home in soft soil as on hardened clay.
Visit Bridgestone for more details.
---
KTM Link Guard
Introducing the new adjustable Linkage Guard from Fastway. Fastway teamed up with the suspension pros at Stillwell Performance to design a product that replaces the linkage arm with a hybrid guard and adjustable suspension link.
Adjustment:
- Four adjustments available from stock out to 2mm
- Improves front end steering & cornering
- Helps with rear wheel traction
- Can lower seat height down to 1/2 an inch at 2mm setting
Protection:
- Machined from a solid block of 6061 aluminum
- Weighs only 6.7 ounces over stock link
- Shaped to deflect blows away from the linkage
- Protective 'hard-black' anodized finish
- Dual heavy-duty 20mm needle bearings with dust seals installed
- Prevents expensive damage to the lower shock clevis and the suspension linkage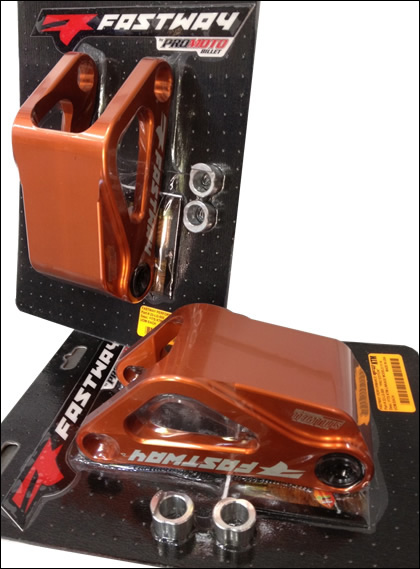 ---
6D Helmets Now In Stock!
We are proud to announce we are a Dealer for the revolutionary 6D Helmets
.
Features:
- Advanced Impact Defense
- ODS Omni-Directional Suspension
- ART-1 Shell With Advanced Aerospace Carbon Fiber
- 3-Year Limited Warranty
- Light Weight
- Sternum Pad, With Washable Comfort Liner
- 6D Exclusive Air-Gap Cooling System
- Roost Guard
- Clavicle Cut-Away
- Visit 6D Helmets for more Information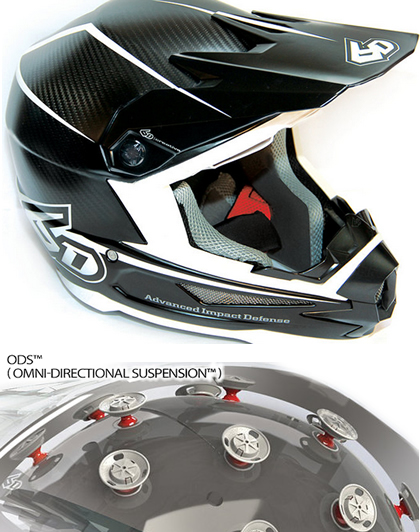 ---
SPLITSTREAM Fuel Filter Screen
This SPLITSTREAM Fuel Filter Screen is a very simple solution to eliminate a big problem ! It is very easy to install without any modification to your original fuel tank or fuel tank cap.
Visit SPLITSTREAM for more info or call!

Application :

- HONDA CRF 250 2010/2013 / CRF 450 2009/2013
- KAWASAKI KXF 250 2011/2013 / KXF 450 2009/2013
- KTM SXF 250/350 2011/2012 ( Fits all KTM SX,SXF,EXC with 3/4 Tank Cap !)
- KTM SXF 250/350/450 2013 with Screw Tank Cap.
---
DRC Shock Pump
Now in stock, a necessary tool for the new 2013 Honda CRF450R and Kawasaki KXF450's!"
- Air pump developed for new (2013 CRF450R/KX450F) front air suspension equipped models.
- Specially designed gauge shows accurate air pressure. MAX 3.5 bar (50psi).
- Long stroke designed for fewer pumps. (Approximately 60 pumps per fork leg)
- Long air hose and air valve attachment for easy operation.
- Optional swivel valve hose available for fat bar
- Micro adjust button for precise air pressure adjustment.
- Anti-air leak design on valve attachment prevents leakage when disconnecting from the air valve.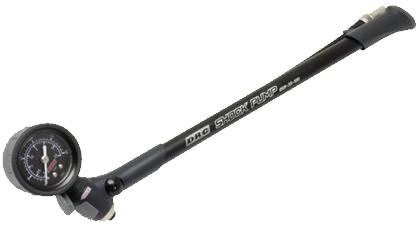 ---
Now Selling Amsoil
We are now an Amsoil Retail store and will be carrying some of the most popular items for motorcycles as well as doing special orders for any of the products Amsoil has available, here are just a few of their many products.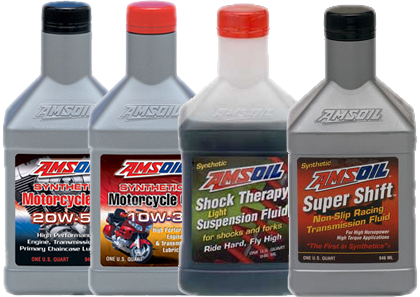 Dubach Racing Development 2010-12 Yamaha YZ450 Engine Relocation Kits.
Dubach Racing Development (DRD) kit moves the engine forward 2.5 millimeters, putting increased weight on the front wheel resulting in a more planted feel and improved all around maneuverability. CNC machined with durability in mind.
2011 Troy Lee Designs SE3 Helmets Are Now Available.